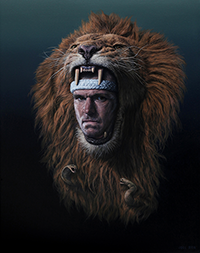 Joel Rea's oil on canvas portrait of multiple world champion Muay Thai kick boxer John Wayne Parr has won the 2019 Brisbane Portrait Prize, People's Choice category.
'The people have spoken and crowned their winner of The Courier-Mail People's Choice award at the inaugural Brisbane Portrait Prize has been whittled down to one standout winner, whose work caught the public's imagination.' More from the Courier Mail article below-
He has painted surfer Mick Fanning and Hollywood star Chris Hemsworth but it's his rather unusual portrait of Muay Thai kick boxer John Wayne Parr that has won Gold Coast artist Joel Rea $7,500 for The Courier-Mail People's Choice Award at the inaugural Brisbane Portrait Prize. The prize was presented at the Brisbane Powerhouse at a VIP awards function.
Rea's painting features fellow Gold Coaster John Wayne Parr wearing a lion's headdress with attendant snakes.
"The lion is Wayne's chosen spirit animal," Rea said. "The snakes represent the combat of Muay Thai kick boxing."
Rea said his painting attempted to capture the subject's "pure determination and fierceness" and his "presence as a human warrior". Never mind that he looks like a Lion King wannabe, the people loved this unusual portrait of a bloke with a huge social media following and they voted for it in droves.
The big prize money, $50,000 for the Lord Mayor's Prize, went to veteran Ipswich artist Leonard Michael Brown for his Portrait of a Young Artist, Jordan Azcune.
The judge for this year, QAGOMA director Chris Saines, said Brown was known and highly regarded for abstract work and his paintings of traditional religious items so the portrait came a bit out of left field.
"His exquisitely alive portrait of Jordan Azcune will likely come as a surprise to many but it shouldn't because Brown is a consummate modern painter," Saines said. "Portrait of a Young Artist, Jordan Azcune (something of a play on James Joyce's A Portrait of the Artist as a Young Man) is a dazzling highly resolved image that speaks unequivocally to the viewer. There are few works in this prize of such painterly control."
The awards ceremony at the Brisbane Powerhouse was followed by a party for artists and art lovers. The finalists exhibition is on until October 31.