THE VERONICAS PORTRAIT PROJECT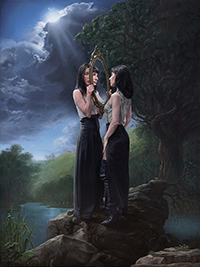 September, 2020.  Joel Rea has painted a portrait of twin sisters Jessica & Lisa Origliasso, the highly acclaimed singers and song writers who perform music as the pop duo 'The Veronicas'. 
Of The Veronicas, Joel Rea says: "I've always loved their music, their voices are beautifully powerful and when painting Jessica and Lisa I wanted to highlight how unique they actually are. The rareness of artistic twins who collaborate as a creative force from writing through to performance." Joel wanted to paint Jessica and Lisa immersed in the nature they value the most, with the enchanting duo in an Arcadian stetting. The Mirror demonstrates how they are within each other, how they hold each other up through their artful journey whilst ultimately being individuals leading their own separate unique lives.
Jessica and Lisa Origliasso are twin sisters from Brisbane and the Australian pop music duo 'The Veronicas'.  The sisters are highly acclaimed musicians, song writers and singers. In 2010 Lisa and Jessica were honoured as Wildlife Warriors of the year for their efforts in publicising animal protection and conservation on a worldwide scale. They also advocate for Sea Shepherd and are have spoken up against  forced closures of Aboriginal Communities in Australia.