QWEEKEND MAGAZINE FRONT COVER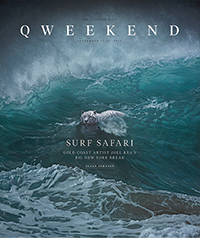 Qweekend Sep 12, 2015 Cover Feature by Susan Johnson.QWeekend is published every week with Saturday's The Courier-Mail Newspaper.
Tigers, massive waves, drowning…welcome to the surf-meets-surrealism works of Gold Coast artist Joel Rea, whose solo show opens in New York tomorrow. See more of Joel's arresting work and read Susan's story, Qweekend magazine in The Courier-Mail Photography by Russell Shakespeare.