PAINTGUIDE EXHIBITION – UNIT LONDON, UK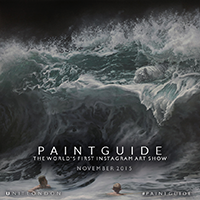 The World's First Instagram Art Show, November 26, 2015 at Unit London, 147-149 Wardour Street, Soho. Unit London is thrilled to present Paintguide, an innovative collaborative exhibition of new works by 60 international artists working primarily with the medium of paint.
Presenting a physical realisation of Henrik Uldalen's @Paintguide Instagram feed which has been meticulously curated over the past year to promote the work of emerging international artists, the exhibition explores Instagram's growing role within the art market, and more broadly the impact of social media in the democratisation of art. The digital era is changing the way in which individuals, artists and collectors engage with visual art; Paintguide will encourage viewers to reflect on how they interact with artworks through the modern phenomenon of Instagram. Paintguide will further underscore Instagram's role in facilitating relationships between artists and collectors, but will ultimately underline the continued importance of viewing works in a gallery setting.
Founded in 2013, Unit London has been phenomenally successful in building a strong following through its strategic use of social media and currently boasts over 51,000 followers across its digital platforms. As Instagram has been fundamental to the development of Unit London, Co-Founders Joe Kennedy and Jonny Burt believe the Paintguide exhibition to be the perfect progression of the gallery brand, illustrating the growing role of social media in developing relationships between a new generation of artists, collectors and gallerists.
Joe Kennedy and Jonny Burt comment: "we are thrilled to be hosting Paintguide at Unit London. As a physical realisation of a social media feed, the exhibition illustrates the convergence of digital and analogue mediums within the art world. Paintguide has built an engaged community of artists, enthusiasts and collectors alike, and in an industry that has a reputation of being both secretive and exclusionary, uses social media as a means of increasing transparency and accessibility within the art world, which is a goal that we as a gallery share."
Born in South Korea but raised in Norway, Uldalen trained first as a primary school teacher and taught for two years before finding his true calling as an artist.
Whilst teaching, Uldalen began to experiment with oils and his work was soon discovered by a local Oslo gallery. As Uldalen's presence on social media grew, so did his international reputation, securing formal overseas gallery representation with Unit London through Instagram.
Uldalen promoted his own work through a personal Instagram account, and set-up Paintguide, which he initially used as a platform to share works of art that personally inspired him.
Following a highly successful takeover of the Paintguide account by Alex Kanevsky, Uldalen found himself inundated with requests for Paintguide takeovers from other like-minded, social media savvy artists. Paintguide, as it exists today, was born; each week a new artist is appointed as curator of the Paintguide feed, posting works that have inspired them, as well as their own pieces.
As each guest artist boasts an individual following of between 30 to 250,000 followers, Paintguide's own following has swelled dramatically, and currently stands at 167,000. Uldalen estimates that between 3 to 5,000 Instagram users chose to follow Paintguide every week, each enjoying the wealth and breadth of work on offer.
Over the past three years Uldalen has been able to build strong personal relationships with artists featured on his account, so when he approached them with his exhibition proposal most jumped at the chance.
Many of the artists featured in Paintguide have built successful careers on social media, including several who have found formal gallery representation through Instagram, offering an indication of the art world's shift in focus towards social and digital platforms. With each artist promoting the exhibition through their own personal Instagram accounts, Unit London expect the combined outreach of the exhibition to be astounding, which will in turn underline the power of Instagram as an invaluable marketing tool.
Exhibiting Melbourne-based artist, Jeremy Geddes notes: "the internet and more recently social media has had a profound impact on artists. It has broken open the traditional models of establishing careers and allowed artists of similar mindsets to find each other and work in solidarity. This Instagram show aptly illustrates this emerging model; Paintguide has brought together artists with differing styles and aesthetic sensibilities, all of whom however, share a passion for the visual arts."
Participating artists
Aaron Nagel, Alessandra Maria, Allison Sommers, Andrew Hem, Andy Espinoza, Amy Sol, Anthony Hurd, Anthony Waichulis, Aron Wiesenfeld, Ashley Oubre, Audrey Kawasaki, Benjamin Björklund, Brad Kunkle, Brandon Holt, Casey Baugh, Casey Weldon, Conrad Roset, Dan Quintana, David Kassan, Daniel Ochoa, Eloy Morales, Eric Fortune, Erik Jones, Esao Andrews, Greg "Craola" Simkins, Henrik Uldalen, Hollis Dunlap, Hsiao Ron Cheng, Ivan Alifan, Jake Wood-Evans, Jean-Paul Mallozzi, Jeff Hein, Jeremy Geddes, Jeremy Mann, João Ruas, Joel Rea, Julio Reyes, Kai Samuels-Davis, Kenichi Hoshine, Kevin Llewellyn, Kim Cogan, Kit King, Linsey Levendall, Marco Mazzoni, Martin Wittfooth, Morten Thyholt, Matt Martin, Michael Hussar, Nicomi Nix Turner, Richey Beckett, Ryan Hewett, Sail, Sam Wolfe Connelly, Sverre Malling, Serge Marshennikov, Sean Cheetham, Shawn Barber, Tom Bagshaw, Tony Curanaj, Vincent Xeus.
About the Curator
Henrik Uldalen (b. 1986, South Korea) is a self-taught figurative painter who lives and works in London. Solo exhibitions include: Thinkspace, Los Angeles, USA (2014); Galerie Contour, Skagen, Denmark (2011); Galleri Ramfjord, Oslo, Norway (2010, 2009). Group exhibitions include: Friends of Leon Gallery, Sydney, Australia (2015); Gallery 1261, Denver, USA (2015); Inner State Gallery, Detroit, USA (2015); LA Municipal Art Gallery, Los Angeles (2015); Modern Eden, San Francisco, USA (2015); Hashimoto Contemporary, San Francisco, USA (2015), Arcadia Contemporary, New York, USA (2014); Thinkspace, Los Angeles, USA (2014, 2013, 2012); Corey Helford Gallery, Los Angeles, USA (2013); Gallery 1261, Denver, USA (2013); NOoSPHERE Arts, New York, USA (2012); Spoke Art, San Francisco, USA (2012); J. LeVine Gallery, Art Basel, Switzerland (2012); Stricoff Fine Art, New York, USA (2012); S Cube Gallery, Los Angeles, USA (2011); Galleri V58, Aarhaus, Denmark (2011).