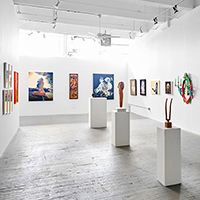 Joel Rea is featured in the inaugural opening group exhibition of Jonathan LeVine Projects.' Welcome to New Jersey', February 18 – March 18, 2017.
Welcome to New Jersey is a comprehensive preview of the internationally-based, multidisciplinary artists the gallery will present to Jersey City though exhibitions, mural projects and special programs. With a newfound focus on collaboration and developing interesting partnerships, Jonathan LeVine Projects aims to go beyond the white cube gallery model and become a thriving creative centre within Mana Contemporary, as well as the community at large.
Featuring works by the following artists:
Adam Wallacavage, AJ Fosik, Alessandro Gallo, Alex Diamond, Andy Kehoe, Ashley Wood, Augustine Kofie, Beth Cavener, Camille Rose Garcia, Carlos Ramirez, Chloe Early, Cryptik, Dan Witz, Diego Gravinese, Dylan Egon, Eloy Morales, Erik Jones, EVOL, Gary Taxali, Handiedan, Haroshi, Hush, Jeff Soto, Jeremy Geddes, Jim Houser, Joel Rea, John Jacobsmeyer, Josh Agle (Shag), Kazuki Takamatsu, Mab Graves, Martin Wittfooth, Mary Iverson, Matt Leines, Matthew Grabelsky, Michael Reeder, Miss Van, Nychos, Phil Hale, Ron English, Shepard Fairey, Tara McPherson & Tristan Eaton.
Upon its inception in 2005, Jonathan LeVine Gallery became an essential venue for Street Art (ephemeral work placed in public urban environments) and Pop Surrealism (work influenced by illustration, comic book art and pop culture imagery). Embarking on a new journey, the goal of Jonathan LeVine Projects is to expand upon its extensive twelve-year history while remaining true to the mission of bringing avant-garde art with a unique counter-culture point of view to the forefront.