JONATHAN LEVINE GALLERY GROUP SHOW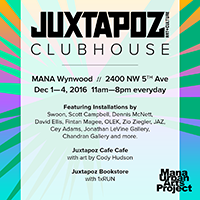 Jonathan LeVine Gallery is pleased to present A Conversation Between Friends, a group exhibition presented during Art Basel Miami at the Juxtapoz Clubhouse featuring new paintings by Joel Rea.
Mana Convention Center, Miami, Florida, USA. November 30th , 2016 – December 4th , 2016. In conjunction with A Conversation Between Friends, the Juxtapoz Clubhouse will host an array of installations and pop-up shops, including the Juxtapoz Bookstore with 1xRUN, Pearly's Beauty Shop presented by Chandran Gallery and installations by Andrew Schoultz, David Ellis and Swoon. There will also be events on site and special performances.
Juxtapoz Clubhouse Event Details.
A Conversation Between Friends- featuring the following artists:
Adam Wallacavage, Alex Gross, Andrew Hem, Andy Kehoe, Ben Tolman, Brett Amory, Dan Witz, Dennis McNett, Dylan Egon, Eloy Morales, Erik Jones, Gary Taxali, Glenn Barr, Handiedan, Haroshi, Hush, Ian Francis, James Bullough, Jamie Adams, Jeremy Geddes, Joel Rea, Juan Francisco Casas, Ludo, Martin Wittfooth, Masakatsu Sashie, Rostarr, Shepard Fairey, Tara McPherson and Tristan Eaton.