Joel Rea to paint Chris Hemsworth Portrait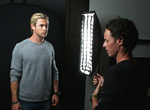 Joel Rea has collaborated with Australian actor Chris Hemsworth with a photo shoot and portrait sitting for upcoming paintings that Rea will complete in 2014.
In 2013, Chris Hemsworth will reprise his role as Thor in the sequel Thor: The Dark World. He also starred in Ron Howard's action film Rush, as Formula 1 driver James Hunt.