Joe Rogan Acquires Joel Rea Artwork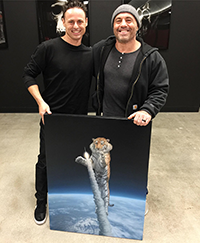 Joel Rea has had a painting acquired by comedian & UFC commentator Joe Rogan, February 2019.
Rogan will house the painting at the studio of his world Renowned podcast The Joe Rogan Experience. Recent podcast guests include Elon Musk, Mike Tyson, Jamie Fox, Neil deGrasse Tyson, Dan Bilzerian, Steve-O, Macaulay Culkin, Russell Brand, Louis Theroux, Jay Leno, Roseanne Barr, James Hetfield, Lance Armstrong and many more.
Joel handed over the painting to Rogan at his podcast studio last week in Los Angeles, California and received a tour of the studio which features an MMA training facility, Sauna room, computer games room, bow hunting simulator, pool table, and a vast collection of art & pop culture collectables. The Joe Rogan Experience podcast is currently one of the most downloaded and viewed on youtube podcasts in the world.
The Joe Rogan Experience Podcast here.