HYPERREALISM MAGAZINE COVER & INTERVIEW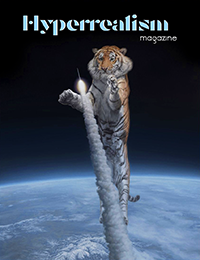 September, 2020.  Joel Rea's painting 'High Hopes' is featured on the front cover of the latest issue of Hyperrealism Magazine. Twelve pages of Rea paintings and new artist interview inside also in this art-packed September issue.
For our Tea with… we've been so lucky to talk with Joel Rea, who told us about his passion for Surrealism and Hyperrealism, the influence that the Australian coastline of his childhood had on his formation and his exciting new projects!
All this and many other exclusive contents in this outstanding issue no.12 of Hyperrealism Magazine!
Enjoy the reading! www.hyperrealism-magazine.com