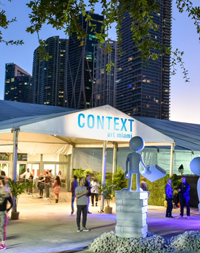 HOFA Gallery will be exhibiting new works by Joel Rea, Joseph Klibansky, Wang Ziling & Mike Dargas at the Context Art Fair in Miami USA, December  1-6 2019.
CONTEXT Art Miami's open atmosphere creates a meaningful dialogue between artists, galleries and collectors while providing the ultimate platform for the presentation of mid-career, emergent and cutting-edge talent by emerging and established galleries.
Ninety-five international galleries, vetted by the CONTEXT Art Miami Selection Committee, exhibit highlights from their gallery programs, solo artist exhibitions and curated projects. The combined efforts of CONTEXT Art Miami and Art Miami provide a unique and alternative opportunity for leading primary dealers and their artists to be marketed and promoted internationally during the most important week for contemporary art in America.
House of Fine Art – HOFA Gallery specialises in contemporary art by established and emerging international artists. HOFA Gallery is determined to feature a multitude of artistic disciplines with an intent focus on exceptional talent, diversity and cultural relevance.